"Thank you so much for interviewing my mother and helping her to tell her story. You are the best at knowing what questions to ask, when to ask them, and also when to sit back and let a person express their history in their own way.
It is a wonderful gift to all of us!"
— Kevin D.
Saving Stories in the Press


Newsmaker of the Day: Chris Wisniewski
Preston Native Publishing Book of Family History
The Norwich Bulletin
Compiled by James Mosher
August 9, 2013
In the news:
Chris Wisniewski, 48, a Preston native who lives in Massachusetts, has written and published a book about her father's family called "Sto Lat: One Hundred Years ofthe Wisniewski Family in America." She is working on a book about her mother's family.
A story honoring a storyteller:
Wisniewski dedicated "Sto Lat," which is a Polish toast, to her father, Edward, who died in March at age 91. Edward Wisniewski was "an amazing storyteller" who increased Chris' interest in writing the book, which she began researching in high school.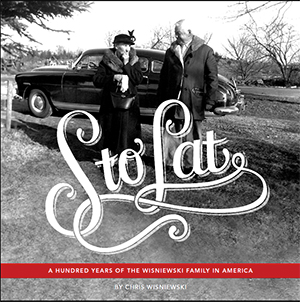 "Sto Lat" is centered on Chris' grandparents, Wladyslaw and Dominica, who emigrated from Poland to Norwich in the early 1900s and later moved to a 140-acre farm on Prodell Road in Preston, where they raised 10 children.
Family:
Chris is the youngest of Wladyslaw and Dominica's 44 grandchildren. A July 13 book party at Preston Public Library was attended by 50 of Chris' relatives. Chris' mother, Elizabeth, who grew up in Norwich, still lives in Preston. Chris has two brothers and three sisters. She is married to Paul Greenspan and they have two children, Sophie and Eli Greenspan, and the family lives in Sudbury, Mass.
Avid historian:
Chris graduated from Norwich Free Academy in 1982. She graduated from the University of Connecticut in 1986 with a degree in American studies focused on minority issues. She is a self-employed personal historian through her company, Saving Stories (
saving-stories.com
). Her other work includes research on a telephone history book, "Old Number One."
Local distribution:
A paperback version of "Sto Lat" is to be sold by the gift shops at Norwich Free Academy and The William W. Backus Hospital, Wisniewski said.
Looking ahead:
Besides the work on her mother's family, which is also of Polish ancestry, Wisniewski is researching books on the 1938 hurricane and on the former Thermos Co. of Norwich, which employed her father and grandfather.

Quotable:
"I felt like it was my job to pass their story on to the next generation," Wisniewski said. "I wanted to get to know my grandparents as people. I was amazed by their sense of resourcefulness and ability to enjoy life on very little money. It's a book that I'm very passionate about. It brought my family closer together."
Copyright 2013, Norwich Bulletin, All Rights Reserved.





Read more press articles on Saving Stories.
Read more about Sto Lat, A Hundred Years of the Wisniewski Family in America by Chris Wisniewski.



Schedule a free consultation with Saving Stories.





"There is no greater agony than bearing an untold story inside you."
— Maya Angelou